After Ellison's soccer game last Saturday we had nothing planned (for once) so we took the kids to Pinkerton Park in Franklin. There are lots of walking trails that lead through battle grounds and historical marks. We enjoyed wonderful weather and the kids had so much fun playing around with Mother Nature...we love how much fun our babes enjoy being outside!
My big girl...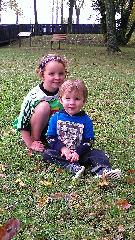 Sibling love :)
We found a turtle while we were walking...
I love this picture...the kids were singing "The Ants Go Marching"
My almost 2 year old boy!
My Mother Nature herself...the girls loves bugs, dirt, making mud pies and making new friends like turtles!